OpenCart 3 API Installation Guide
This article will guide you through the process of installing and configuring your OpenCart 3 store to allow Dynamic Creative Ad Builder to export your website data via REST API.
Enable FTP
To install the OpenCart API Extension you will need to ensure you have FTP enabled on your OpenCart site. To do this, from your OpenCart admin panel, go to System > Settings > Edit current store, go to the FTP section and ensure Enable FTP is set to "Yes".
If you don't see the FTP tab for your OpenCart 3 shop contact your web developer and ask for FTP details to be created. These are required to install the third-party OpenCart 3 API Extension below.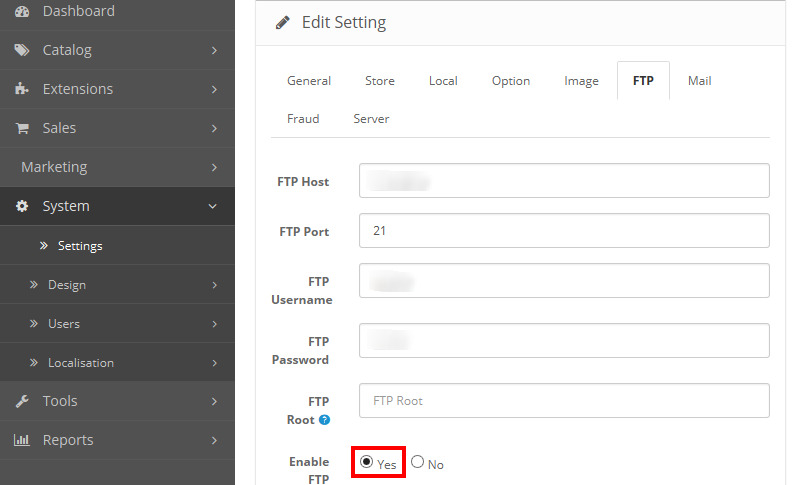 Install the Third-party API Extension
The API Extension comes with a install.txt file and it has more information and trouble shooting.
1

Download the API Extension using this link. (Third-party recommended plugin: Opencart REST API - Shopping cart API for Opencart 3)

2

Navigate to your OpenCart 3 root folder using an FTP program

3

Upload the "catalog", "system" and "admin" folder to your OpenCart 3 installation folder.


4

Please find the file shopping_cart_rest_api_for_opencart3.ocmod.zip and upload it in the Extension Installer of your OpenCart 3.
Then go to Extensions > Modifications and hit the blue "Refresh" button in the upper right corner under the notification icon.
Please make sure that you click the blue refresh button and not the browser refresh button.

If you get "FTP needs to be enabled in the settings" message, go to your OpenCart 3 settings page, under the FTP tab enable FTP (Refer to Enable FTP above).

5

Go to your admin area in Extensions, select Modules from dropdown list and enable your REST API extension.
You have to fill the Order id field (you can find it in the order email) You have to fill the API security key field and make it tricky (eg. JSksPNsTNPQjPmysfECkBj4nKp73uvt3 or anything else) We require this security key to complete the installation on our end.

Installation Video